Fish & Dive History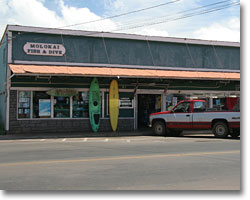 Moloka'i Fish & Dive has been a landmark in the Island's principal town and shopping district of Kaunakakai for nearly 30 years. It was started in the 1970s by Jim Brocker, who had been until that time been an Airline Transport Pilot in various parts of the world. After having enough of the "fast lane" and the problems that go with it, Jim decided to take up residence on the tiny Island of Moloka'i and open a business that not only served the local population, but visitors also.

With an open and active mind, he began to see opportunities which had not been explored on this tiny isle before and, within a short time, began to design items that included motifs evolving around the tropical life style of Molokai. Jim created and marketed the Island's first printed T-shirt in 1977 and over the years has applied his designs to many other printable items such as handbags, caps, coffee cups and key chains, to name a few.

Keeping his artwork earthy and involved with the Hawaiian culture of Molokai, Jim's portfolio of designs grew steadily, as did his following. Well known throughout the State of Hawaii, the T-shirts of Molokai Fish & Dive are highly prized today by visiting local people from other islands. Created by himself and staff members, these copyrighted and exclusive designs have never been available other than at Jim's store in Kaunakakai. As a result, they have always been one of the must things that folks seek out to bring home after visiting Molokai.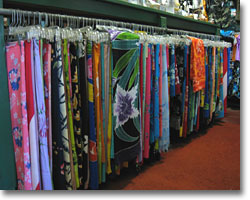 By the1980s, the confines of the original store were rapidly being outgrown so, a second shop called Molokai Island Creations was opened just for the ladies. Stocking a wide selection of beautiful hand-painted sarongs, bathing suits, island wear, exotic tropical body lotions and perfumes, its botique atmosphere was just what the women wanted.